This is a guide showing how to use the Anritsu MT8821C tester against Nordic's nRF9160.
Setting up
The RF attenuations between the nRF9160 and MT8821C can be modified from "External Loss"
Use Nordic proprietary AT commands for selecting LTE-M1 or NB-IoT mode.
For LTE-M: AT%XSYSTEMMODE=1,0,0,0
For NB-IoT: AT%XSYSTEMMODE=0,1,0,0
Before triggering an attach with AT+CFUN=1, you need to send AT+CFUN=4 for the detach procedure first.

The full list of AT commands supported by Nordic can be found here:https://infocenter.nordicsemi.com/index.jsp?topic=%2Fref_at_commands%2FREF%2Fat_commands%2Fintro.html.
Cat-M Common settings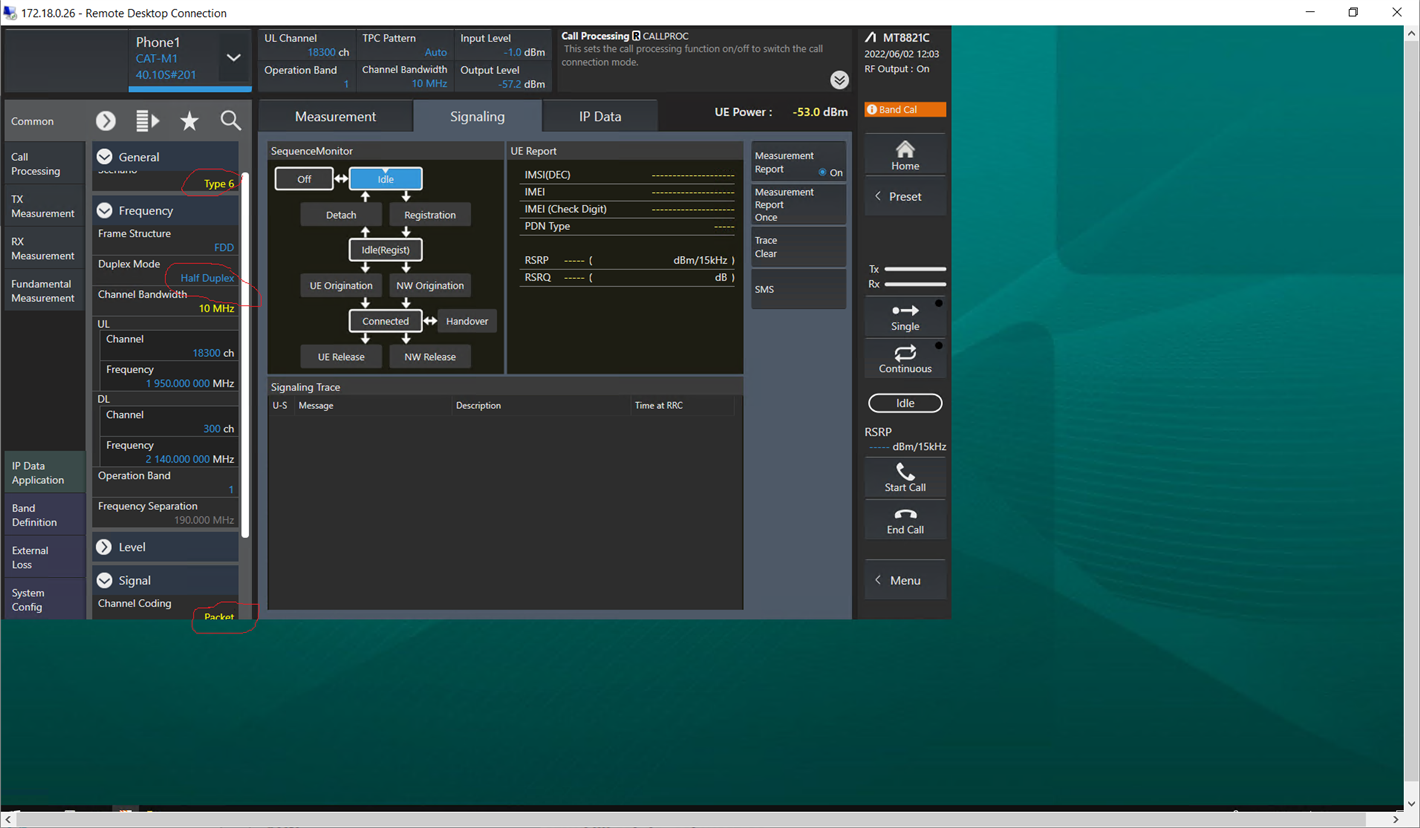 Cat-M Call Processing settings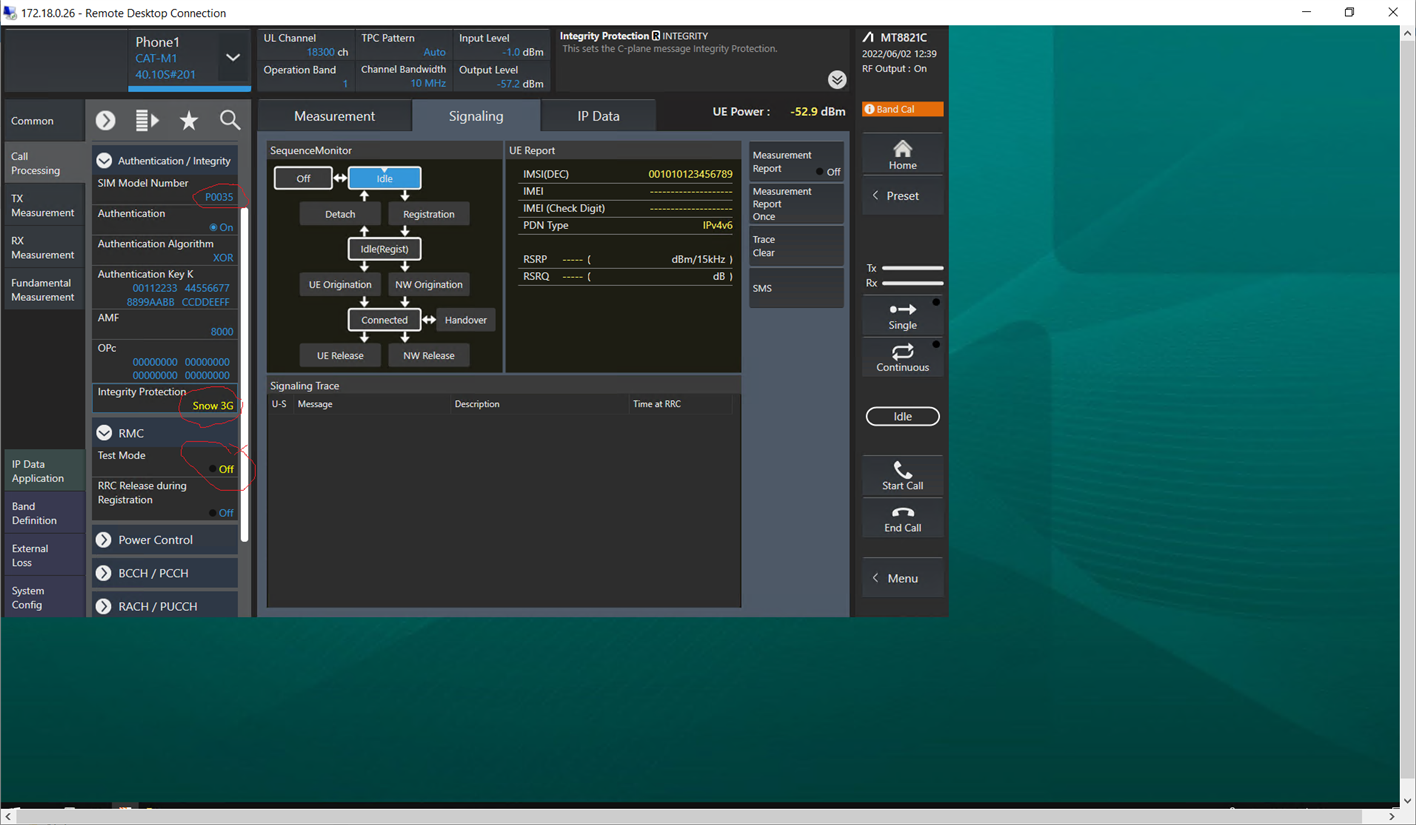 NB-IoT Call Processing settings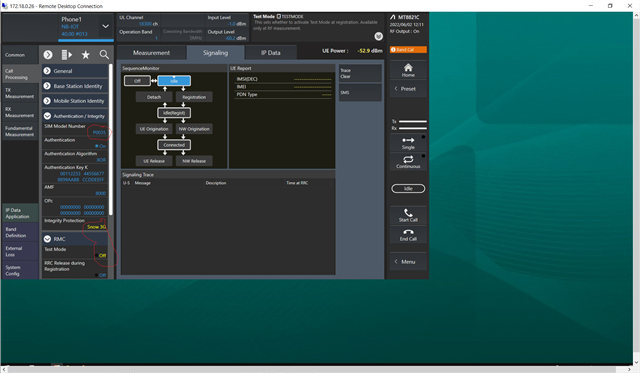 Use SIM model number P0035 when the default Anritsu SIM card is used in "Authentication / Integrity"
Use integrity protection other than "Null" as the "Null" algorithm might not be supported in all nRF9160 builds (also in "Authentication / Integrity" selection)
Always enable "Half Duplex" functionality where selectable in Cat-M1 testing (full duplex will not work properly against nRF9160)
To enable UE to go to RRC idle mode after registration, use "RRC Release During Registration" from "RMC". This needs to be selected before starting the attach procedure.
To enable UE to go to RRC idle mode after other connections, select "use RRC state transition" from selection "General->Packet"
The selection "Inactivity Timer" in "Call Processing->Packet" keeps NB-IoT RRC connection alive until timer expires (in case there is no any data exchange ongoing).
For signaling RF testing, RRC connected mode is required (for RF related testing, it is recommended to use RMC mode from "Common->Signal->Channel Coding->RMC")
For the RSRP and RSRQ measurements being reported by nRF9160 on the own cell, select "Common->General-Scenario type 6" and EventA1 from "General->Measurement report" and enable measurement reporting from the GUI.
You can also use periodic measurements by selecting "General->Measurement->Periodical"
For the IP data application (Using Iperf and Ping from MT8821C (internally, without Control PC) can be found from "IP data"):
Cat-M1 : Set following parameters as below :
"Common->General->Scenario->Type 6"
"Common->Signal->Channel Coding->Packet"
"Call Processing->RMC->Test Mode->Off"
NB IoT :
"Common->Signal->Channel Coding->Packet"
"Call Processing->RMC->Test Mode->Off"
"Common->UL RMC->MCSIndex->"at least 4""

Options for Cat-M1 & NB IoT IP data testing :
- Cat-M1 & NB IoT IP Data Transfer SW options needed.

Taking logs
Select "menu" from UI : "Log->Save signaling log", saved *.lge log might be enough for debugging.
The *.lge file can be viewed with PA3 viewer and will help in debugging (along with the nRF9160 modem trace).

Recallable Anritsu MT8821C configuration files
- files are available on request for both M1 and NB IoT. For recalling use "Menu->Parameter Save/Recall->Recall" and select file to be recalled.