Hello-
I'm seeing the nRF52840 stay awake when I don't want it to. I'm calling sd_app_evt_wait() every turn through the main loop with SEVONPEND disabled, but it's waking up and falling through.
I'm capturing a histogram of the entire IRQ set, now including the 16 core exceptions, and I found a "smoking gun"- There's almost a 1:1 correspondence between my main loop turns and the core SVCALL_IRQn exception interrupt: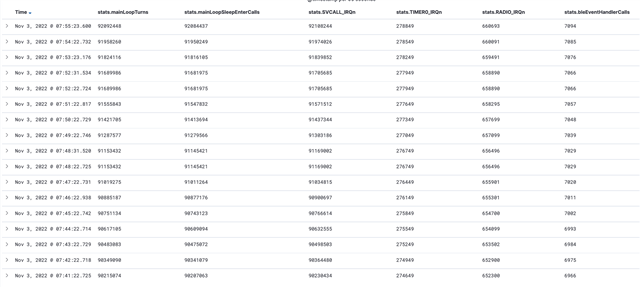 Reading the nRFSDK / SoftDevice headers, it looks like there's a syscall-style interface- when calling from the app into SoftDevice, it issues the SVC with the call id encoded in the instruction.
My hunch about what's happening here is that I've managed to get my app into a state where it's calling into SoftDevice (maybe to test something?) once per main loop turn. That issues an SVC, which sets the Event register. Then, when I call into sd_app_evt_wait() at the end of my loop, it clears the Event register and simply continues. The cycle repeats again, and my app never sleeps.
So, here are some questions I was hoping an expert could give me some advice + insight into please!
1. Is my hypothesis reasonable? Could this be happening? Does SVC set the Event register?
2. Is there anything in the nRFSDK that lets me audit SoftDevice supervisor calls in an automated way? (I think I can build this into my IRQ capture-and-forward shim)
3. Do you have any other ideas or suggestions?
Sorry to file a relatively open-ended question, but time is critical for us so I'd love any thoughts you all might have!
Best,
Charles